Mercina 
(
Merc/
edes and Mart/
ina
) is the real-life friendship pairing between
Mercedes Lambre
 and
Martina Stoessel
 They are very good friends and are together a lot of time, either in an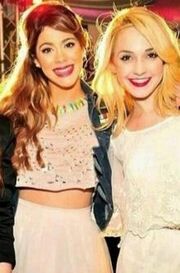 interview, in their homes or on the street.
SimilaritiesEdit
Both speak Spanish.
Both are really good friends with each other.
Both have a tattoo.
Both are Argentinean.
Both have a name that start with M.
Both are actresses and singers.
They worked for Violetta in Concert.
They both love their fans.
Both are currently in a relationship; Martina is dating an actor named Peter Lanzani; and Mercedes is dating Xabiani Ponce De León, who plays Marco
Both are a part of the main cast of "Violetta".
Both have natural brown hair.
Both had their first appearence on TV in Violetta.
Both have blonde hair.
DifferencesEdit
Mercedes is 21 and Martina is 17.
Mercedes' birthday is in October and Martina's is in March.
Mercedes' eye color is hazel and Martina's eye color is brown.
Mercedes was born in La Plata and Martina was born in Buenos Aires.
Their relationship is totally different to the one between Violetta and Ludmila.
They are best friends on the set of Violetta.
Martina's mom, Mariana, loves Mercedes like her own daughter.
Mercedes wrote the song "Luz" for Martina.
Ad blocker interference detected!
Wikia is a free-to-use site that makes money from advertising. We have a modified experience for viewers using ad blockers

Wikia is not accessible if you've made further modifications. Remove the custom ad blocker rule(s) and the page will load as expected.